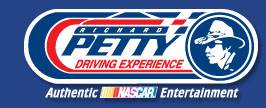 Attended Richard Petty Driving School at Charlotte Motor Speedway. What a blast!! Earned Certificate for completing the "Rookie Driving Experience" as a guest of Petty Racing along with other sponsors. We all did several laps with a pro driver (@165 mph) in a two seater for a warm-up. Then your on your own for the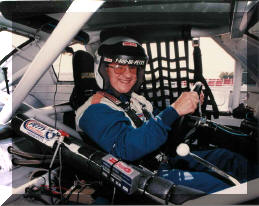 Rookie Driving Experience. When I got out of the car after doing 165 mph with the instructor I was very excited, as you can imagine. Richard greeted me and said "Now you can trust the whole car and not just the welding and go to the limit when you drive!"
At that time, the Rookie Driving Experience was 8 laps on your own following an instructor in his car. I averaged 136.3 mph for the 8 laps with a max lap speed of speed of 142.4 mph. At that time 145 mph was the maximum your instructor, who was in front driving his car, would allow! That's me in photo on right. Top speed was going into turn 3, probably about 165 mph.
Click on the "Driving Experience LOGO" to go to their site and register for a class!
When Richard Petty started his "Driving School," ESAB supported the activity with welding and cutting equipment for the shop that fabricated the school cars. For that support and welding training efforts the School painted a car for ESAB! The chassis and roll cage are welded by his crew. The bodies, in fact, are fiberglass unlike the Cup Cars! These are not subjected to the fender to fender contact or at least shouldn't be!