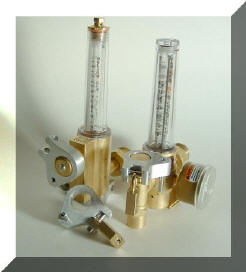 Excessive Flow Rates Waste Gas and Cause Turbulent Shielding Creating Inferior Weld Quality
Our Patented Products Limit Maximum Flow That Can Be Set
Picture: ESAB L-33 Flowmeter and Victor.HRF-1435 Regulator/Flowmeter with "Flow Rate Limiter" Installed.
Fits Most Brands of Flowmeters Without Alterations. Simply Slips Over the Knob and Locks with a Setscrew.
Download PDF of "Flow Rate Limiter' Fabricator Testimonial Showing Under 1 Month Payback
The Flow Rate Limiter is a Perfect Compliment to Our Patented Gas Saver System. The Combination Can Cut Total Shielding Gas Use by Significantly Over 50%.
PURCHASE FLOW RATE LIMITER PRODUCTS
Description

Part #;

WAT-

Price

Add

Quantity in

Cart

Flow Rate Limiter (Shown installed on left flowmeter in upper photo)

(Includes billet aluminum body with set screw and locking Allen wrench)

FRL
$ 37.00

Flow Rate Limiter w/Lock

(Shown installed on right regulator/ flowmeter in upper photo)

(Includes aluminum body with set screw and Allen wrench, blocking bar, brass lock and friction pad)

FRLL
$ 47.50
SEE TESTIMONIAL- Flow Rate Limiter Saves 35%

See PDF of Published Article About Gas Savings Achieved by Texas Hydraulics in Trailer Body Builders Magazine CLICK

Turbulent flow pulls air into the gas shield creating excess weld spatter and inferior weld quality. Flow rates causing turbulent shielding can be as low as about 40 CFH depending on nozzle size! We have measured 150 CFH with some flowmeters when the ball is pinned to the top of the flowmeter! That is not only wasting gas but is definitely pulling air into the shielding gas stream causing excess spatter and inferior weld quality.

To Use Our "Flow Rate Limiter" Simply:

Set maximum flow rate desired on your flowmeter.

Slip "Flow Rate Limiter" over control knob so the Pin limits further flow increases.

Tighten the setscrew. If welders are likely not to find and use the small Allen wrench supplied with the product, the FRL is all you need to purchase.

FLOW RATE LIMITER

Part Number WAT-FRLL Shown

Fits most popular flowmeters and regulator- flowmeters.

The flowmeter on the left incorporates a typical needle valve to control gas flow rates. A wide flow adjustment range is possible. Unfortunately welders often use the adage that; "If some is good more must be better," when setting gas flow rates. This not only wastes gas but creates a turbulent shielding gas stream pulling moisture laden air into the arc.

In most instances Model FRL provides a sufficient deterrent to avoid changes in flow and prevents unintentional changes in settings. A small Allen wrench (supplied with the product) is often not readily available.

A Flow Limiting Locking system is available by ordering Model FRLL. Model FRLL includes a stainless steel Blocking Bar that slips into holes in the FRL and prevents access to the set screw. A sold brass Lock in then inserted into a hole in the Blocking Bar to prevent its removal. Payback can be measured in weeks from gas savings with improved weld quality a bonus.

WAT FRL Mounted on Several Flowmeter

and Regulator/Flowmeter Models

[Numbers in ( ) are footnotes]

Shielding Gas Source

Brand

(note 1)

Model

Figure

Below

Max Flow

Set As Desired (2)

Min Flow (7) (8)
Cylinder
ESABTM
R-33 (3)

A

X CFH
X less 17 CFH
Pipeline
ESABTM
L-33 (3)

A

X CFH
X less 17 CFH
Cylinder
ESABTM
R5007, R50-FM, R72-FM

(4)

B
X CFH
X less 29 CFH or locked at X See note (4)
Pipeline
ESABTM
L-32 (4)
B
X CFH
X less 29 CFH or locked at X See note (4)
Cylinder
VictorTM
HRF1435 (5)
C
X CFH
X less 8 CFH or locked at X See note (5)
Cylinder
HarrisTM
355-2
similar to C
X CFH
X less 15 CFH
Pipeline
VictorTM
FM372KM (6)
D
X CFH
X less 8 CFH

Footnotes:

1) ESAB is a registered trademark of ESAB Welding and Cutting Products; Victor is a registered trademark of Thermadyne Holdings. Harris is a registered trademark of Harris Calorific, Inc - A Lincoln Electric Company. This product or WA Technology, LLC are not affiliated with these companies.

2) The Max Flow can be set at any level desired and available with the specific flowmeter before the FRL is locked in place.

3) Valve placement in this model may require mounting with the lock up.

4) It is also possible to mount the lock up and essentially lock the flow at the desired setting.

5) It is also possible to mount the lock facing back toward the body and essentially lock the flow at the desired setting.

6) For this model the normal mounting is with the lock facing up (see photo D).

7) With the Maximum flow set at X CFH the Minimum flow will be X - the value shown. Also see footnotes 4 and 5 since for some flowmeters the FRL can be positioned to lock the flow at the desired level and not allowing it to change up or down.

8) If it after setting the maximum desired flow, the lower flow setting is more than desired, there is a simple solution.

CLICK to View Reduced Range Solution

A
B
C
D
Fits Some Other Models

Victor Model HRF2325 regulator (photo left) is an old style with a plastic knob. The knob diameter from peak to peak is larger than the 0.750 inches of the newer models and will not fit the FRL. The peaks were simply removed with a Dermal Tool so it fit the hole in the FRL.

A customer reports the FRL fits a Harris Model 355 (photo Left) When set at 45 CFH max they reported being able to reduce flow down to 20 CFH.

Have another model? Contact us with details to see if it will fit.

Save Additional Gas Waste With Our Patented Gas Saver System

Leather Cable covers and PLASMIT Torch Protectors