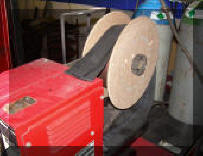 Arctech Fabricators is in the welding and fabricating business in Springfield Ohio. After purchasing Mud Flaps for all their MIG welders, they Emailed and said: "The Mud Flaps work great!!! In addition to keeping the wire clean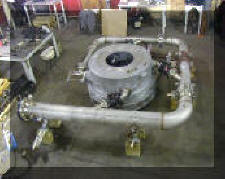 it also helped clear up a safety concern by helping shield the wire, which is (now) less exposed and helps reduce the risk of electrical shock."
They sent the photo upper left of the Mud Flap installed on one of their wire feeders. This custom fabricator makes some elaborate, complex weldments meeting a number of fabrication codes. One part is shown on the right. Click on Photo to go to their Web Site.