Engineering a 1934 Pro Street / Street Rod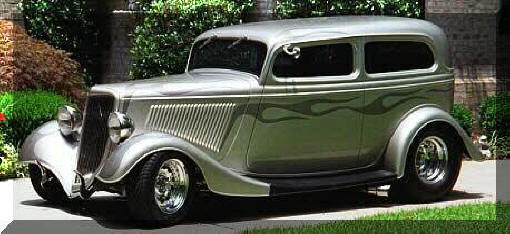 Engineering a 1934 Pro Street Street Rod
!


Click for YouTube Video Overview of Car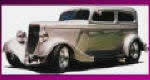 Engineering a Street Rod -
YouTube Videos
This 1934 Pro Street Sedan is somewhat subtle on the outside (except for the 16.5 inch Mickey Thomson rear tires!) However it has a very modern, ridged chassis, a ZZ 502 Big Block Chevy with a 250 HP NOS system and all of the other drive train pieces to match.
This picture tour presents some of the key features of this carefully engineered Street Rod. Each component was designed to provide a specific function. It's nice to see a "cool form" follows those fuctions:
CHASSIS

The chassis is from TCI in California. It has a very ridged and extensive triangulated cross frame to handle the torque of a ZZ 502 with a 250 HP Nitrous system. Centerline Warrior wheels with 225x15 tires up front provide good traction.

Independent front suspension is double wishbone with coil-over adjustable shocks, anti-roll bar with rack and pinion steering. The rear frame is narrowed to handle the 16.5 x 31 Mickey Thomson Sportsman tires on 12 inch Centerline Warrior wheels.

.

A modified panard linkage maintains the rear ends lateral position. Front and rear anti-roll bars keep it flat when cornering. The rear view shows the fully boxed side rails and extensive triangulated cross bracing. The chassis does not twist, there is no torque steer which was expected with this much power. Things have sure progressed!

The 4 bar link rear suspension has plenty of adjustment holes and heim jointed bars to set the launch as desired. The 9 inch Ford rear has Positraction and Summers Brothers 31 spline axels to handle the 567 ft-lbs of torque without the Nitrous! The rear coil-overs allow the ride height to be fine tuned. With 53% of the weight on the rear wheels the traction is excellent (at least on warm days!)

The ability to dial out torque steer was even a surprise to us!

No she isn't a "Canyon Carver" but it does cruise well. Four wheel disk brakes with power assist stop the car. With engine set back; help from aluminum heads, manifold, water pump, small geared starter, battery in the rear etc; with the heavy 9 inch rear and sedan body, there is 53% of the cars weight on the rear wheels!

ENGINE

The Chevy ZZ 502/502 is an ideal high torque engine. It idles well and when you put your foot down it deliveries instantly (well when you finally get the carb right--see How to Modify a Holley.) It is not difficult to assemble, just bolt on the 37 pieces that come in a large wooden crate.

You just need a good torque wrench and the rest is a snap. The wooden shipping crate provided an engine stand during assembly. The bottom end comes all together so you are only putting on the aluminum heads, pushrods, rockers, manifold, water pump, starter, distributor etc.

The engine has forged crank, rods and pistons; 4 bolt mains and a roller hydraulic cam. The cam is aggressive (lift: .527" Intake, .544" Exhaust) (Duration @ .050": 224° I, 234° E) but idles at 900 rpm. Power is transferred to a modified TH 400 transmission with a 2400 RPM stall converter.

INTERIOR

The interior compliments the exterior with two tone leather and matching flames! The roll bar and Simpson 5 point harnesses fit the Pro Street theme and provide security secure when making a 3.5 second 0-60 banzai runs.

The rear has a "Stereo Wall" replacing the seat. two 300 watt amps power the main speakers and sub woofer.

Borla stainless muffles are not very loud until your foot is on the gas.

The Dash Extension was custom built to cover all of the plumbing from the Vintage Air system. To keep the engine compartment a clean as possible even the dryer was placed inside the car. The Dakota Digital dash is needed since there is little room behind the upper dash panel.

Flame Details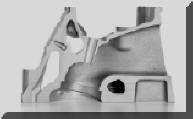 MIG Gas Delivery and the Small Block Chevy Evolved in a Similar Way and Time!
Both had Advances and Setbacks Before They Were Optimized!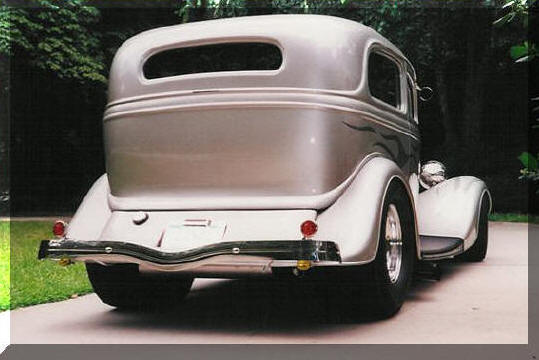 This Ad Helps Bring You Free Information on Welding Race Cars & Street Rods
Have a Welder? Improve Weld Starts and Have Shielding Gas Cylinder Last at Least Twice as Long!
Note: Our Patented GSS is Not Available in "Stores"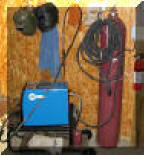 A home shop fabricator in Georgia with a Miller TM 175 amp welder purchased a 50 foot Gas Saver System ( GSSTM ) so he could use a larger cylinder and mount it on the wall of his shop. He wrote:
"The system works great. Thanks for the professional service and a great product." Click To See His Home Shop
A Professional Street Rod Builder Had This to Say:
With their standard MIG welder gas delivery hose the peak shielding flow at weld start was measured at 150 CFH. That caused air to be sucked into the gas stream causing poor weld starts. With the GSS replacing their existing hose, the peak flow surge at the weld start was about 50 CFH. Total gas use was cut in half.
Kyle Bond, President, quickly saw the improvement achieved in weld start quality as a significant advantage! Kyle, an excellent automotive painter, was well aware of the effects of gas surge caused by pressure buildup in the delivery hose when stopped. He has to deal with the visible effects in the air hose lines on the spray gun in his paint booth! The paint surge is visible and creates defects unless the gun is triggered off the part being painted! We can't do that with our MIG gun!
The Car Has Numerous Class Wins at Car Shows Including the "Mayors Trophy" Twice, When 5 and 8 Years Old! It is driven and driven to every Car Show - we do not own a trailer! This is not a "Trailer Queen!"