CLICK for Partner's Mobile Friendly Website
They're Offering FREE Shipping for GSS's
Patented "GAS SAVER SYSTEM" (GSS) cuts waste by reducing starting "GAS BLAST" ~85%.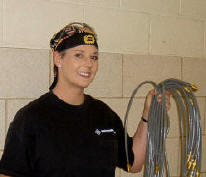 Enough extra gas is retained to purge air at a non-turbulant velocity from the weld start area- improves quality.
Just Replace Existing Gas Hose! Over 15,000 in Use!
Welding instructor Sue, Holds 25 GSS's for Installation.. Click Pic for Details -
Description
(Select GSS Hose Length from Cylinder to Welder)


Part #

WAT-

Price

See

Photo

Add

Quantity in Cart

GSS; 3 foot Gas Hose with "B" Threaded Fittings Both Ends


Fits Lincoln, most Miller and ESAB welders and the new Harbor Freight Vulcan & Titanium welders and regualators that have female CGA threaded inert gas "B" outlet fittings.


FB3

(3 feet long)

A&B below
CGA "B" Fitting


GSS; 4 foot Gas Hose with "B" Threaded Fittings Both Ends


Reversing existing hose will verify your hose ends are identical and threaded type "B".

FB4

(4 feet long)

A&B below

For Miller 211 and Hobart Handler Welders
(Note: Most Miller Welders come with a cylinder regulator/flowgauge with a female "B" threaded outlet so any FBX GSS should be ordered. The 211 and Hobart Handlers have a hose barb outlet on the flow control so this FBS4 should be ordered)


GSS; 4 foot Gas Hose with "B" Fitting on Welder End and a Splice Fitting on Regulator End For Newer Miller 211 and Most Hobart Handlers
Have a Miller 211 or new Hobart Handler? CLICK for Info.

Need a longer GSS than an FBS4? CLICK TO SEND AND EMAIL stating what length you want.
Or Email TechSupport@NetWelding.com


FBS4

(4 feet long)

C below




"Splice Fitting"

GSS; 6 foot Gas Hose with "B" Threaded Fittings installed.

FB6
(6 feet long)

$75.00

A&B below
GSS; 12 foot Gas Hose with "B" Threaded Fittings installed.

FB12
(12 feet long)

$85.00

A&B below

GSS; 25 foot Gas Hose with "B" Threaded Fittings installed.
FB25
(25 feet long)

$108.00

A&B below

Don't Have a "B" Fitting On One or Both Hose Ends? The FBS4 above doesn't fit your needs?
There Are Two Other Choices:
FIRST CHOCIE: Use Splice Fitting(s); Buy an FBXX GSS AND CLICK to Email Which End(s) Need a Splice Fitting and it Will Be Installed at The Same Price
See photo "C" and Splice Fitting info below
Click for PDF of fittings options including if buying bulk hose and fittings

Order Above Part Numbers

C

below

Order FBXX
Above
Click to Email Where Splice Fitting(s) Are Required

SECOND CHOICE: If You Don't Have "B" Fittings on Both Hose Ends: Buy an FBXX and Adapter SFIT-4, a Female CGA "B" to 1/4" Barb for the end needed

SFIT-4

$17.00

C1

below

Portable Shielding Gas Flowmeter
"NEW Lower Price"


Measure Flow Accuratly at MIG Gun or TIG Torch in Cubic Feet per Hour, CFH.

Reads 5 to 50 CFH, has wide 1 inch ID base opening, fits any MIG Nozzle or TIG Cup. See Details Below.




PFM

$20.95

Portable Pressure Test Device; Check pressures and demonstrate gas waste
PTD

$49.00

E

below

Payment Method

We accept most credit cards and use a secure transaction by PayPal. Select the item then click ADD TO CART BUTTON. You can increase the quantity desired in the SHOPPING CART.

NO NEED to join PayPal, just use your credit card for a one time transaction by clicking the "Check Out" Box in the Shopping Cart. Then click the link, "Don't have a PayPal account?" - you'll be directed to enter your credit card information, shipping address etc.

Need Another Way to Pay? Click to Email a Request.

To maintain focus on Saving, Not Selling shielding gas and to accurately answer customer questions about gas waste - our patented products are
"NOT AVAILABLE IN STORES!
Click for Shipping & Handling Charges for USA Details for obtaining estimates of shipping and handling costs for other locations are also shown on the shipping info page.

Note: In Canada our Distributor, Plasmit Inc, sells many of our gas saving products Click to Visit PLASMIT Web Page

Click for Page on "How To Install" and Selection of GSS Fittings and for Special Fittings and Adapters for Robots, Specific Welders etc.

Gas Saver System (GSS) Info and Photo's of Fittings

The patented GSS consists of a custom manufactured, small ID and large OD gas delivery hose that replaces the existing hose from your gas supply (cylinder or piped) to wire feeder (also welder or robot). It includes a special hose fitting with a peak flow restriction orifice on the wire feeder /welder end to improve weld starts. This peak flow limiting orifice reduces the initial gas surge flow rate avoiding excess turbulence and the associated air it pulls into the gas shield. The small ID and orifice, reduce the gas waste at weld start by 80 to 85% while leaving enough extra gas to quickly purge air from the weld start area. Note: Gas Flow Rate, while welding, is set with existing Flowmeter, Regulator/Flowgauge or Orifice at the gas supply to whatever rate is desired. However if welders are setting excessively high gas flow rates (we have measured 150 CFH at the MIG gun nozzle when flowmeter knobs are opened a half turn from where the flow ball pinned to the top of the tube) then the GSS will limit flow to a minimum turbulent rate of about half of what can be set on a wide open flowmeter! This is more flow than needed for any MIG nozzle size, welding current, gas used or allowable drafts.

If it is desired to lock flows to meet Weld Procedure Specifications, we have another patented product to help, CLICK to See Patented Flow Rate Limiter.

Two types of GSS end fittings are available:

The most commonly used hose fittings for industrial MIG and TIG welders (i.e. Lincoln, Miller, Hobart, ESAB - and many smaller welders sold by these major US manufactures, is the standard Compressed Gas Association (CGA) fitting for Inert Gas, called a CGA 032 or "B" fitting. See the dimensions and appearance in Photo A & B below.

Note, recent Hobart Handler and Miller 211 welders were supplied with a"B" fitting on the welder end but a regulator/flowgauge that did not have a CGA fitting (note both Hobart, Miller and Smith are ITW companies.) The regulator used a hose barb fitting similar to those often employed in Europe and Asia, SEE PHOTO -You'll Need a Splice Fitting installed on the GSS gas supply end for these models. (CLICK Installation Web Page for a Photo.)

If either your welder, feeder, Robot welder or regulator use another type of gas hose connection, such as a hose barb, or if only a gas hose exits your welder, you can purchase a GSS with a "Splice Fitting" installed on one or both ends for the same price. The Splice Fitting is shown below in Photo C. An adapter is also available for purchase, see Photo C1 Also CLICK to See Installation Details.

Refer to Photo's A & B above; if both your feeder and regulator have CGA 032 fittings, also referred to as Inert Gas "B"- you can purchase Part Numbers WAT FB3, FB4, FB6, FB12, and FB25 which come in fixed lengths with the fittings installed (Photo B). Easy to check, see if your hose can be swapped end to end. If so you have "B" fittings on both ends! The GSS is then simply threaded into the female fittings on the feeder and regulator or flowmeter.

NOTE: "SP" Splice Fittings

IF YOU DO NOT HAVE CGA "B" FITTINGS:

If either the wire feeder/welder or regulator/flowmeter does not have a female CGA (Compressed Gas Association) Inert Gas 032, "B" fitting, or only a gas hose exits your welder, you can order the desired length, FB3, FB4, FB6, FB12 or FB25 with a splice fitting on either or both ends for the same price (See Photo C Above.) Just send an Email when you place your order and state which end (feeder/welder end or gas supply end) or both require the Splice Fittings installed instead of the CGA "B" fitting. Include your shipping address in the Email so we can match the Email with the order. Note for newer Miller 211 welders and most Hobart Handlers, the welders have CGA female "B" fittings but the supplied regulator/flowgauge has a barb fitting. Our FBS4 comes with the proper fittings.

When you receive your hose with the Splice Fittings, simply; 1) cut your existing hose close to the feeder/welder and/or regulator and 2) splice in the GSS hose by inserting the barb fitting into the cut hose. The most common 1/4 inch hose barb will come installed on the GSS you'll receive, if a smaller 3/16 inch barb is needed it is supplied in the package and can easily be installed. The weld and gas savings performance results will be the same with either the "B" or Splice Fittings. Click for more details about installation of Splice Fitting Connections or See Photo C1 Directly Below, about the use of an adapter.

If you have many MIG welders with different length hoses you may wish to consider purchasing bulk hose and a pair of the special fittings separately (Photo Left). Email for Details.

Note, the purchase price includes a paid-up license for the use of our Patent.

Optional Adapter if You Don't Have "B" Fittings

Particularly useful for industrial fabricators with some Wire Feeders or Welding Robots that do not have CGA female "B" fittings. Our WAT SFIT-4 adapter may be the best option. The WAT SFIT-4 has a 1/4 inch hose barb on one end and a female CGA "B" on the other. Note a 3/16 inch and 5/16 inch barb are also available: Email

Adapter Installation Details:

WAT SFIT-4 splices into a short section of existing hose coming from welder, wire feeder (shown in photo left) or welding robot that does not have a CGA female gas fitting. It may also be used on the gas supply end if the flow control has only a hose barb or other fitting, rather than a female CGA "B" fitting. Once installed you can use our GSS with "B" fittings. The adapter provides the ability to connect and disconnect wire feeders etc simply, with a quality metal to metal CGA gas tight seat, Note we can also provide this fitting for 3/16 inch and 5/16 inch ID hose, Email. Some customers who have inexpensive regulator/flow controls that use a hose barb outlet, plan to upgrade to a quality regulator/flow control that uses a female "B" outlet so order a WAT SFIT-4 fitting.

Limited Time Offer:

FREE Multi-Tool Pocket Knife with any order for a Gas Saver System. Note: one per order not per system.

Customers asked for a way to measure actual gas flow at the MIG gun or TIG torch. We added a high quality portable flowmeter shown on the left. Order Part Number WAT PFM.
NOTE it reads in US CFH not Metric L/min

This is What A Customer Said About Our Portable Flowmeter:

"Your portable flow meter is better than sliced bread. The welding suppliers in my area looked at me like I had six heads when I described it to them. When I purchased mine off your website, I showed my normal supplier your site and I believe he already has one ordered for himself!"

This Email received from a Welding Engineer about what he accomplished with our Portable Flowmeter:

"I received the portable flow meter and used it to measure the output on two robotic torches. I was able to show that our processes are not in control. Both torches were supposed to have restriction orifices in line, but had been modified at some point by drilling or removal of the orifices. When tested, they pushed the ball up to the maximum flow position on the meter. We presently have no plumbed-in gas flow meters on any of our production welding torches. Your portable meter won my argument to purchase and install permanent flow meters across the board (total 40). It will also help us to set up our new inline indicators, as well as troubleshoot future porosity problems. An additional benefit, of course, is that we will probably greatly reduce our gas consumption costs. Thanks for a great tool for a great price!"

WAT PTD Pressure Test Device

This 0 to 100 psi pressure gauge has a CGA 032 "B" female fitting on one end and a male CGA 032 "b" fitting on the other.

It can be used to:

1) Check pressure in the gas delivery hose to define flow restrictions. 2) Check pipeline pressures.
3) Demonstrate why the major cause of gas waste is the gas surge at each weld start.

Details on how to use the device are included with the instructions supplied with the product.

Order Part Number WAT PTD

Other Products

FLOW RATE LIMITER

Set the maximum flow rate you wish to allow. Fits most popular flowmeters SEE DETAILS

You can add products to the Shopping Cart from the following pages:

Remember, The GSS:

>Can reduce gas waste by 40 to 50% or more
>Reduces the gas flow surge at weld initiation to improve start quality
>Maintains you regulator pressure to retain self compensating flow control
>Provides a controlled small amount of extra gas flow at the start to displace air that diffused into the gun gas hose and nozzle
>Has no moving parts to wear or leak
>Requires no interaction by the welder
>Is inexpensive and pays for itself in a very short time
To keep focus on saving, not selling shielding gas, this patented, inexpensive product is only available directly from us. There are over 15,000 in use in industrial shops. For a partial list, look under Customers in the BUY Box on top of the page.

Free Technical Paper, "MIG SHIELDING GAS CONTROL"

CLICK ICON for PDF DOWNLOAD