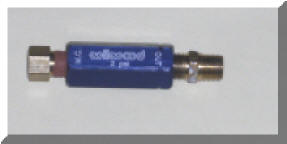 The brakes were OK but did feel spongy and had a long stroke, actuating close to the floor. Lived with that for several years until I saw a TV program that talked about residual pressure valves and what would happen if you didn't install them. The peddle would feel spongy and go close to the floor. Hmm!
Right after that comment I recalled when I was building the car I had noticed two residual pressure valves had been installed by TCI in the rear brake lines - in series. I even called TCI and asked if that would be OK. They said no problem. After all these years was it possible they did not have a residual valve in the front line? Quickly went to the garage and jacked up the car side. Sure enough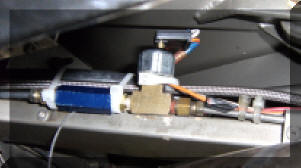 no front residual valve!! They had installed two - but both in the rear line!
Fortunately Wilwood sells a residual pressure valve with one standard brake fitting on one end and an 1/8" to 1/8" pipe fitting on the other (above photo.) This was perfect to install on the Tee fitting that houses the brake light pressure switch! No need to pull out my double flair fitting tool! Just removed the brake line from the Tee fitting and installed the Wilwood Residual Pressure Valve (see picture left.) Bending the original brake line to fit was no problem.
That Was The Solution! Better overall braking and a higher less spongy peddle.