Recent Example Quantified Lack of Start Gas Problem
A review of the shielding gas flow rates in a shop with 100 welders revealed the amount of excess gas flow on each welder.
DETAILS:
A shop with 100 MIG welders tried to reduce gas waste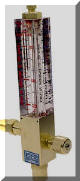 by installing flowmeters at the wire feeders. These were connected by a hose to a 50 psi shielding gas pipeline. Many of the flowmeters were model L-32 (shown at right) which are designed to read accurately at 50 psi, so the flow readings are direct.
As when mounting an orifice at the wire feeder, this approach essentially eliminates all surge flow and insufficient extra gas is available at the weld start to purge air from the weld area and MIG gun nozzle. As expected, the welders tried to compensate (which they really can not fully accomplish) by increasing the steady state flow!
The following was observed:
~50% of the welders were set at ~50 - 55 CFH. None were found lower than that flow level.

~25% of the welders were set near the top of the flowgauge, which for this model is 70 CFH.

The remaining ~25% had the flow ball pinned to the top of the flow tube. In our Lab we have measured flows with this model of 150 CFH when the needle valve is fully opened!
In trying to compensate for the lack of sufficient extra start gas the welders set the steady state flow far higher than needed. Any flow over 50 to 60 CFH is just pulling air into the gas stream and is counter productive!
SOLUTIONS:
There are several ways to solve this problem:
Put the flowmeters back at the pipeline and install our inexpensive patented Gas Saver System which provides sufficient extra start gas at a peak flow rate that avoids excess turbulence.

One of our recent patents defines a method to mount a flowmeter at the wire feeder using a storage device and peak flow orifice to deliver the required quantity of extra start gas at a maximum controlled flow rate. It was designed for what are referred to as "shipyard wire feeders" where the gas delivery hose could be 200 feet long, or more.

An alternate approve is also defined in our recent patents which we have licensed to a welding manufacturer.

IF INTERESTED IN ANY OF THESE APPROACHES - EMAIL