Ethanol Has Less Energy Than Gasoline- You'll Use More:
That is true, it has less energy per pound but it also has much higher octane so the engine can be adjusted to produce more power! Or a smaller engine can be used to produce the same power and a smaller engine means a lighter car etc. Let's explain:
Ethanol has 13,000 BTU's/lb (a measure of energy). It also has a 113 octane rating (R+M)/2

Pump Gasoline has 18,500 BTU's/lb and 87 to 93 octane rating

E85 has 14,000 BTU's/lb and 105 octane rating

E10 has 17,000 BTU's/lb and 90 to 93 octane rating
(Note: In a test by Edmonds, the car folks, showed in a trip in a Chevy Tahoe from San Diego to Los Vegas Gasoline achieved 18.3 mpg while E85 achieved only 13.5 mpg 26% less mileage. )
Now if we went all the way to E85 (the 15% gasoline helps starting etc) we'd have an octane rating like racing gasoline! The Otto cycle gets more efficient the higher the compression ratio (Nicholas Otto was granted a patent in 1876 for the 4 stroke engine design used in our cars.)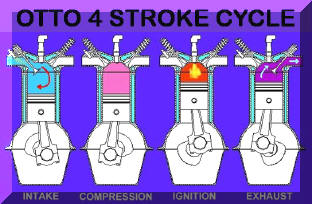 NASCAR engines are mandated to a maximum of 12:1 compression in their carbureted naturally aspirated engines. They generate about 775 hp with 358 cid. That's 2.15 hp/cubic inch of displacement. If we only need 200 hp can we get by with an efficient 95 cubic inch (1.5 L) engine! Richard Petty was quoted in a Circle Track article saying NASCAR had to mandate 12:1 a few years ago because some builders were going as high as 18:1! With 105 octane we could probably use 14:1!
An MIT research group is developing a small turbocharged engine that uses 19:1 compression which they indicate gets the efficiency of a diesel. In essence they regain all the lost power per pound of fuel through efficiency! Check out how much of the gasoline we use wasted in a standard engine.
Direct injection being used in a number of gasoline engines provides more control of flame propagation. Now if we just added a turbo to a 12:1 compression 1.5 L engine and a sensor to control boost depending what % Ethanol was being used we'd have a great flex-fuel engine!
The challenge and opportunity are there for inventive "Hot Rodders" to show what can be done!