HISTORY OF SUBMERGED ARC WELDING
continued-- Page 2
JONES, KENNEDY, ROTERMUND PATENT
The key patent that defines the Submerged Arc process is US Patent number 2,043,960 by Jones, Kennedy and Rothermund. This patent was assigned to Linde Division of UCC and filed in October 1935. The Specification states, Page 4, Column 2, Lines 4 through 7 that the application was in part a continuation of applications Serial Numbers 657,836 and 705,893 filed in February 1933 and January 1934.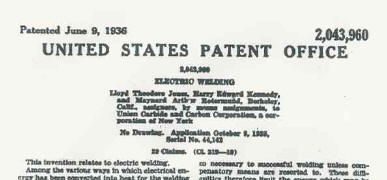 There are no other patents sited against or referenced in US Patent 2,043,960, indicating this basic process and flux patent did not need to refer to that by Robinoff. The Specification further discusses what is no doubt the Robinoff "process" namely on Page 1, Column 2, Lines 23 through 59 parts of which are quoted: "There is another known means of applying protective flux. It consists in utilizing thick coating of finely divided material, a flux, which covers the weld seam. The following is a typical analysis of such a flux…4.34% Fe2O3…3% Fe. … Moreover the vigor of the arc submerged under this flux projects a continuous cloud of material into the atmosphere. An evidence of the amount of gas that is emitted by a flux…welders frequently wear gas masks…it is not surprising gas holes should be found in the metal of the weld."
Quoting the main uniqueness of the process in the Specification, Page 2, Column 1, Lines 20 through 37; "We have discovered a novel process for electric welding wherein the necessary heat is generally by the passage of a heavy electric current between the metal electrode (usually bare) and the... objects to be welded…the current being carried across the gap between the electrode and the objects by and through a conductive melt or welding composition having appropriate electrical resistive properties. … The welding composition serves as an active instrumentality, or welding media inasmuch as it provides heating means, controls the rate of penetration and quality of welding, purifies the molten metal and protects the molten metal."
They also define a need for prefusing the flux ingredients in the Specification, Page 2 Column 1, Lines 42 to 45; "The chemical reactions between the components of the welding composition must be completed before it is used in welding. Failure in this regard most surely invites porosity."
The patent further defines at least 4 compositions for fluxes including a preferred method of manufacture.
One questionable fact however is their insistence that the process had no arc. In the Specification they even state a situation which in their minds proved the point. Quoting Page 4, Column 1, Lines 42 to 53; "Several circumstances show clearly that our process does not depend on the formation of an arc of the usual type. If, while the weld is being made, the circuit is opened externally of the weld and then closed again while the reactive composition is still molten the current will immediately resume its flow without any necessarily for moving the electrode into contact with the seam as it would be necessary to reestablish the arc of the usual type. The heat for melting the electrode is evidently developed in the conductive melt it self." See Side Bar