HISTORY OF SUBMERGED ARC WELDING
continued-- Page 3
THE PROCESS IS LICENSED TO FABRICATORS
Linde did not "just purchase" a proven invention as some historical reviews state. A great deal of research and development was conducted by both the Linde Labs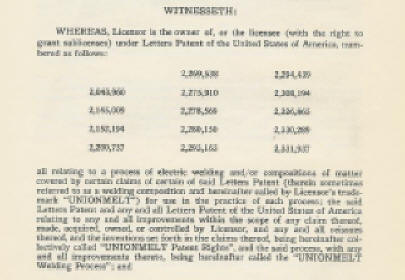 and Harry Kennedy's Company. The process was licensed to fabricators charging $0.05 per pound of metal deposited. Kennedy in fact was given a significant portion of the license fee. I saw a copy of a check which he was sent and for the time it was a very high dollar amount!
A copy of a part of the end user license agreement is shown on the left. You'll note 14 patents are listed. Reviewing a few of them helps define the effort and timing put forth by both companies. For example, patent number 2,145,009 was filed in November 1935 by James Keir an engineer working for Linde. It defines a number of flux backing means. Patent number 2,152,194 was filed in November of 1935 by L. T. Jones, one of the original inventors working in Kennedy's company in California. It describes magnetic fields applied to the welds to control penetration.
The last mentioned patent listed is number 2,331,937 which was filed in April 1940 by N. G. Schreiner, an employee of Linde, photo right. [I spent a great deal of time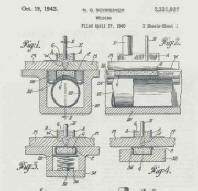 working with Norm Schreiner in the area of the manufacture of gas and oil transmission pipe. Norm had started with Linde in the mid 30's during the depression. Even graduate engineers, like Norm, had a difficult time finding a job. He was involved with Unionmelt from the early days of its development. His knowledge of the process was excellent and he was always eager to share it with me] This particular patent related to flux or ceramic weld backing systems.
In a letter to Linde District Sales Managers in the mid 1940's there are 900 US fabricators listed as having License agreements to use the Unionment Process. Only about 80 were listed as apparently being inactive. The list of companies includes all shipyards, vessel shops, pipe manufacturers etc.
In addition to licensing the process domestically, licenses agreements were listed with a number of companies in Europe, South America, Scandinavia, India, South Africa, Malaysia, and Japan
PUBLISHED INFORMATION ABOUT THE PROCESS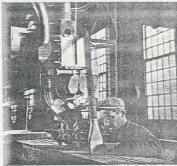 Initially the Submerged Arc process parameters were not published openly. A few articles appeared in 1937. One article entitled "Pullman-Standard Active in Welding Developments," was published in The Welding Engineer in September 1937 (reference 2). It discusses one application for the use of the process, welding railroad car center sills. Essentially a butt weld between two rolled Z shaped beams to form a U with ears. They state; "A powdered flux is distributed ahead of the electrode wire to expedite the welding and protect it from the atmosphere gases. No arc is visible. One of the novel features of this machine is a vacuum cleaner, so to speak, which sucks up the unused welding flux into a container so it can be used again. The photo at left shows the operator manipulating the vacuum pick-up. No other details are given.
Another article appeared in 1937. The Welding Journal published in October 1937 this article entitled Welding in Tanker Construction by T. M. Jackson from Sun Shipbuilding and Drydock Company in Pennsylvania. It states' "Very thorough preliminary investigation indicated that the "Unionmelt" automatic process adopted for this work would solve the problem of weld distortion, shrinkage and stress. Actual experience has fully demonstrated that it does, at least as far as large shop assemblies are concerned. I mentioned the "Unionmelt process because we adopted it. [Norm Schreiner worked on the weld sequence for ships] Mechanical properties of the Unionment welds are also shown.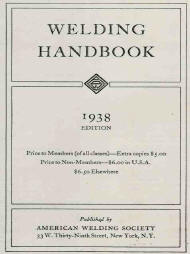 There is also a paragraph in the 1938 American Welding Societies "Welding Handbook," 1938 Edition (reference 3). It simply states at the end of the Chapter 8 on Automatic Welding, "Another method of producing shielded arc welds automatically consists of applying powdered flux to the weld. The process employs welding currents of the order of 1000 to 2000 amperes and makes possible the welding of plates 1 ½ inches thick and over in a single pass. A bare electrode is used and powdered flux is used either between dams erected along the joint or from a hopper around the arc as the weld progresses. The process of welding produces extremely high welding speeds and welds with physical properties comparable to those made with the highest quality manual shielded arc electrodes. The speeds and currents obtainable with the process, which is patented, are not shown in Table I." There were a number of other technical papers published through 1941. Progressively they gave more information about the process and its benefits. During World War II little information was released.
THE PATENT INFRINGEMENT
The Lincoln Electric company had marketed their version of the Submerged Arc process, initially called "Hidden Arc." They were sued for patent infringement by the Linde Air Products Company. This famous patent law case is still studied in law school. The suit was appealed all the way to the US Supreme Court. The following is from a summary of the Courts decision delivered by Mr. Justice Jackson in February 1949:
"Linde Air Products Co., owner of the Jones patent for an electric welding process and fluxes to be used therewith, brought an action for the infringement against Lincoln and two Graver companies. The trial court held four flux claims valid and infringed and certain other flux claims and process claims invalid."
Lincoln Submerged Arc flux called 660 violated one of the flux claims held valid. Two letters from the respective sales departments to customers are of interest. Linde in a letter on March 18, 1949 canceled all License agreements and royalty fees due (the top of that letter is reproduced below). They increased the price of flux to $0.097 and $0.107 per pound depending on type. A letter of October 1948 had listed the price of flux as $0.068 and $0.077 for similar fluxes. All prices FOB. This was an average increase of about $0.03 per pound of flux. Since the usual consumption of flux is at least 1.5 pounds flux per pound of wire that would be equal to about $0.045 per pound of weld metal. Almost equal to the $0.05/pound of weld metal royalty fee they gave up!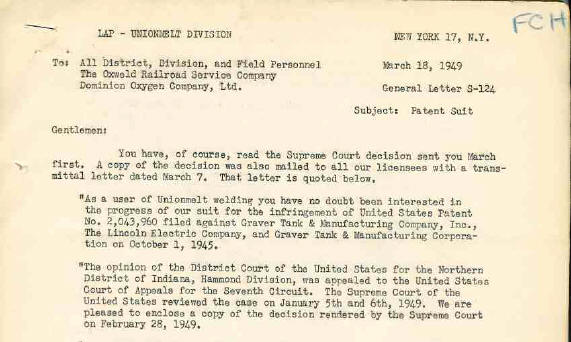 In a letter dated March 4, 1949 Lincoln Electric (the top and bottom of which are reproduced below) informed their customers they were introducing two new fluxes, 770 and 780 to (presumably) replace the infringing 660. Of interest, those fluxes were listed as priced at $0.11 per pound-delivered.


An interesting note about Mr. Jim Lincoln's philosophy on patents appeared in their company produced magazine, THE STABILIZER, Winter 1994. It stated; "As a company, Lincoln did not believe in protection by patents or other forms of monopoly that interfered with competition. Certain products were patented only to protect the company from infringement suits."
Side Bar: OTHER INNOVATORS
Lincoln Electric went on to develop a number of other fluxes, wires and equipment for the Submerged Arc process including alloy fluxes and those applicable for hardfacing. They also developed products and promoted the use of hand-held Submerged Arc systems. Arcos, McKay and Inco introduced products for welding stainless steel and nickel alloys. Hobart produced several fluxes, wires and equipment for Submerged Arc welding. There were a number of foreign innovations by companies such as ESAB, Oerlikon, OTC, Kobe and others.
Innovations by other persons such as Robert K. Hopkins are also in the US patent record. Roman F. Arnoldy developed and patented a number of innovations relating to surfacing with the process through the addition of iron powder and other alloys. His process, "Bulk Welding," was a method used to increase weld deposition rate by adding iron powder to the weld. Bill Gleason of Gleason Engineering developed wires and flux systems for rebuilding crankshafts of various chemistries including cast iron. A. F. Manz invented the "Hot Wire" process which allowed increased deposition rate. There were many others.
This short list of companies and inventors is in no way meant to be comprehensive.
Have a Welder? Improve Weld Starts and Have Shielding Gas Cylinder Last at Least Twice as Long!
Note: Our Patented GSS is Not Available in "Stores"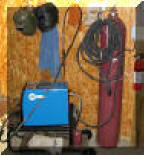 A home shop fabricator in Georgia with a Miller TM 175 amp welder purchased a 50 foot Gas Saver System ( GSSTM ) so he could use a larger cylinder and mount it on the wall of his shop. He wrote:
"The system works great. Thanks for the professional service and a great product." Click To See His Home Shop
A Professional Street Rod Builder Had This to Say: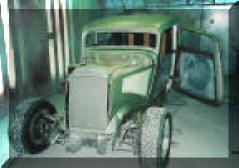 With their standard MIG welder gas delivery hose the peak shielding flow at weld start was measured at 150 CFH. That caused air to be sucked into the gas stream causing poor weld starts. With the GSS replacing their existing hose, the peak flow surge at the weld start was about 50 CFH. Total gas use was cut in half.
Kyle Bond, President, quickly saw the improvement achieved in weld start quality as a significant advantage! Kyle, an excellent automotive painter, was well aware of the effects of gas surge caused by pressure buildup in the delivery hose when stopped. He has to deal with the visible effects in the air hose lines on the spray gun in his paint booth! The paint surge is visible and creates defects unless the gun is triggered off the part being painted! We can't do that with our MIG gun!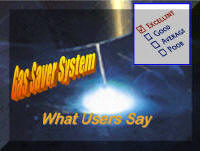 See Video Showing What Users Say About Our Gas Saver System-CLICK Here or Picture